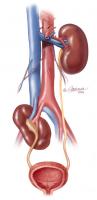 After Googling for some time, I think that the condition Maxim has is called ectopic kidneys. There are several variations on this abnormality, but is seems that Maxim has the simple ectopic kidney, which means that one of his kidneys, the right one, hasn't moved up to its position. Other than that it is on the proper side and functions alright.
There is no treatment either. Actually there is none needed so far. The misplaced kidney can cause a number of evil things, like stones in the kidneys, abdominal pains, and internal infections. Only if something like that starts to happen, there will be the need to treat it. Hopefully it won't happen.
By the way, when I was thanking ultrasound inventors, I was right on the spot. Ectopic kidneys are a fairly common thing. About 1 out of 500 to 1000 people are born with it. More frequently those are man than women. And more frequenlty the left kidney gets misplaced. Interesting thing is that only about 1 out of every 10 cases is diagnosed. Now this number is growing due to the wide acceptance of ultrasound as a diagnostic tool. Until recently, most of the cases were discovered by accident, when, for example, doing the abdominal X-Ray.
So, once again – thank you guys for developing ultrasound. Keep it up.