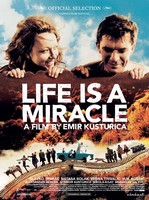 Today I watched "Life Is A Miracle". Unfortunately I don't speak neither Serbo-Croatian, which was the only audio language available on DVD; and I don't read Greek that good, which was the only language in subtitles menu. But I can't be scared away from a good movie by such a small thingy as the language.
IMDB rating: 7.7
My rating: 10. I would have given more, if it was possible.
Celebrity highlights: this film is a masterpiece of Emir Kusturica's work.
I am very interested in Emir Kusturica's work. I have seen a few of his movies. I loved some of them. I liked all of them. But "Life Is A Miracle" is by far the strongest film that he has done so far (from those that I have seen at least).
Everything is perfect in this film – the story, the way it was told, casting, acting, photography and filmography, camera work, music, make up, costumes – everything. But there was something more than that. I don't know how to describe it though. This film really moved me. Though I was missing on the words, people were so close to me that I was crying through the whole second half of the film.
As with most Kusturica's films there were lots and lots of people. And he didn't introduce them all gradually. He just put the audience right in the middle of a crowd. Slowly, slowly, people were disappearing one by one. But all of them had a complete story. I felt like I knew each and every one of them personally.
I also liked all other standard Kusturica's bits.
Firstly, there was a lot of symbolism in the movie. It helped a lot. Having no support from the language, I was interested in all details. His symbols (like the mole and the light, or pigeons) provided a really good insight on the main characters' feelings.
Secondly, I like how he always uses common people to show the complexity of feelings and emotions. Common people are like a clean example. Since there are so many of them in real life and everyone knows them so well, there is no need in describing them, so Kusturica can jump streight to the relationships.
Thirdly, is, of course, his use of nature. Animals play an important role in all his movies. This one is not an exception. Cats, dogs, donkeys, horses, bears are all here. Birds are also present, but in less amounts. He uses them more for symbolics. Consider a newly born chicken getting out of a cage, or a pigeon on the canon, or an eagle eating the duck outside of a semidestroyed farm house. Additionaly, Kusturica is using lots and lots of landscapes. He found some really beautiful views. He also changes seasons durng the course of the film to help with different moods.
There is more, of course, but I am talking about obvious things here. Get a couple of Emi's movies to watch you'll understand what I mean…