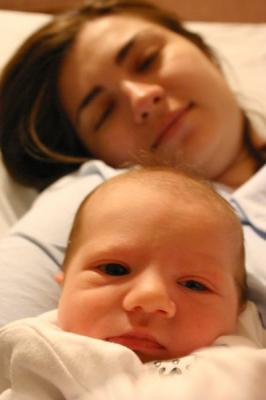 I would like to take this opportunity to welcome my first son into this world. He was born today, February 23, 2005, at 12:56. Weighting as much as 3680 grams, he passed all the checks and looks and feels perfectly OK. "All systems are running". Olga is getting well now after having the Caesarean section (for medical reasons).
Now, with the official stuff over, I will spend a few words trying to describe how I felt. In one word – overwhelmed. Olga has been pregnant for nine month – a long enough time to give us both some space for adaptation. Having her pregnant became a normal thing – a routine if you will – in the last few weeks. We started to wait for the baby. The transformation from the pregnant state into a parent state begs for time. The process usually takes few hours which is all one have to change himself from pregnancy to fatherhood (or motherhood, but I am speaking for myself now). Because Olga had a Caesarean, I didn't have hours.
She was taken for the operation and I went to grab a sandwich. I came back 15 minutes later. Two more minutes afterwards I was holding my son – fresh out of the operation theatre. 20 minutes! Can you believe that? I barely started to get in the mood to think about the upcoming changes when nurse gave me the boy. I was totally unprepared (as if you could ever get prepared for such a thing). Time stopped. Everything stopped. Suddenly, Earth became a very tiny ball of a dull color. Nothing in the Universe mattered anymore. Except for him. I am not even sure I was breathing…
For the last few month I was preparing myself for a new member in the family. I was trying to imagine how it would be. I was thinking about how close the boy will be to me. Something that I couldn't even imagine though is how really close he is. When I thought about him, I could still see a border, a separation line between two humans – me and him. I imagined we would be very very close, but we would still be separate physically. When I took Maxim into my hands, I realized that he is way much too closer. Part of him was physically somewhere inside of my chest. It was moving spontaneously there and I couldn't control it in any way.
The feeling is so powerful that it blasts everything else out of the mind. No thoughts, no ideas, no feelings, no emotions – just one central unique and the only feeling of me being connected to this little but so prescious moving being.
And the energy, man! Holding him for just 10 seconds got me both drunk and high without sideeffects. I needed about 2 hours to get myself together after that. And just when I thought I did, it was time to hold him again. And than again a couple of hours of rehub. And again the holding. And so forth.
I don't know if I managed to express even the millionth part of what I was feeling. Hopefully. At least I hope I've got you thinking about getting a baby. Do it. You won't regret. I wasn't through too much with the pregnancy. Fortunately, we didn't have any major problems or whatever. Everything went easy and we paid a small price. What we've got in return is something unbelievable. The first ten seconds of holding the baby in my arms were by themselve worth a lot. And I am sure those weren't the only 10 seconds of pure gold and diamonds (feeling-wise) that I am getting out of this kido.
P.S.: Pictures from the clinic are here. More to come.