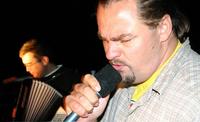 Most of today I spent at Amateur Song Festival in Kakomalis. It was the third one in the last two years. By the way, the official name is KSP, which should be written in Russian letters. It can be roughly translated as Kakomalis Song Phestival. :)
Anyway, there were lots and lots of people, nevermind the lack of advertising. Plenty of regulars, but few new faces too. Lots and lots of music, food, and drinks, and general fun. Those who didn't go missed a lot!
I have made a few pictures, which are available here.