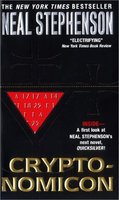 I have just finished reading "Cryptonomicon" by Neal Stephenson. It is a great action book for people interested in technology. There is a lot of stuff about cryptography, UNIX and computers in general, but it is also quiet an entertaining read.
You can read a proper review at Slashdot. There is a website for the book here. You can read few excerpts there aswell.
And, of course, you can get it from Amazon here for a mere $8 USD.