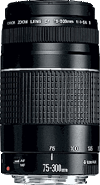 I've placed an order for few add-ons for my Digital Rebel. Things that I wanted the most are:
Canon 75-300/4-5.6 EF IS USM zoom lens with lens hood (ET-64II).
Canon 58mm circular polarizer PL-C.
Canon EW60C lens hood for Rebel's standard 18-55mm lens.
I've ordered through Digital Photo Discount Club, which is known to work. Total price together with the delivery is around $670 USD. If I would have to buy the same in Cyprus it would probably cost me 2-3 times more. The lens alone costs here about $1500 USD.
Big thanks go to Hazard who helped as usual. The biggest question now is will it arrive before the Cyprus stage of World Rally Championship which will be held during 14-16 of May. Hope lives forever! :)