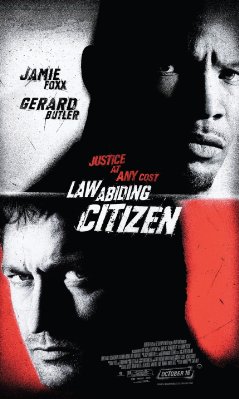 I just came back from the cinema where I watched "Law Abiding Citizen".  I vaguely remember seeing a trailer for this film, but other than that it wasn't ringing any bells or setting any expectations.  Even though 7.3/10 IMDB rating was promising.
The film turned out to be rather awesome!  From the first scenes it looked like it had enough of everything – drama, action, plot twists, etc.  It also felt nicely paced – not too fast, and not too slow.  And it was getting better with every scene.  I was somehow thinking that it would turn into one of those numerous revenge movies, where you could see through and predict things easily, but it didn't.  Just when I thought I had it figured, the plot was taking another twist, turning the movie even more interesting.
It's difficult to talk about specifics without giving spoilers away, but I'll try.  While, as I said, I really enjoyed the film, the ending wasn't up to the par with the rest of the film. It felt hurried into and even like it was from another movie or something.  I would prefer a different one.  But if there was a chance to shift the movie anywhere, I'd start the opposite direction after the scene with the judge.
Again, cryptically speaking to avoid spoilers, I think the film raises an excellent point on the fight of good and evil.  And, unlike many other movies that do the same, there is some really big and strong evil.  And, again, unlike in many other movies, the good is represented mighty powerful even if outnumbered.  And there is the fight between the two for the whole film.  But the ending spoils the fight a bit, since the fight and the whole point of counter-balancing one with another fades away for something else.  And I am not even sure what that something else is.
Anyway, nevermind the rant.  If you watch the film, you'll know what I am talking about.  And I highly recommend that you do.  There is something for everyone and there is a lot for people who like this type of films.  5 stars.