With me now working in Nicosia and Maxim's school year about to start, the need for a second car has emerged.  We've been planning it for a while any way, it's just that the priority of it raised recently.  Our Mitsubishi Galant is more than 13 years old now, and while it works fine, it's probably not the best idea to push it into daily 160+ kilometers journey mode.
So, with that in mind, we bought a second car.   Olga picked it up on Friday and I'll be using that for my daily travels instead.  The new car is a Suzuki Splash, which is very similar to Suzuki Swift, but in a different body.  Here is how it looks: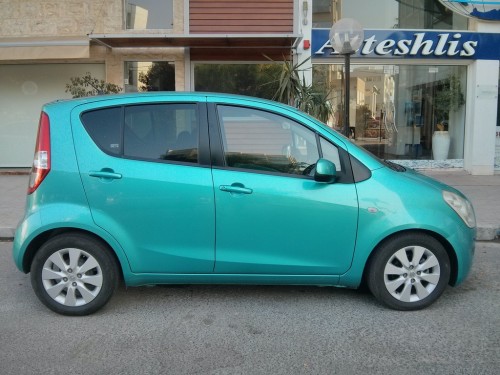 … and a bit of the front and back:
I've been taking it for a spin during the weekend, and I have to say that I am rather surprised as to how comfortable this car is.  It's a bit slower to accelerate (1.2L engine and automatic gearbox versus 1.8L and manual gearbox of the Mitsubishi Galant), but once it gets going, it's very stable.  I also expect it to need much less petrol, which is a definite plus for my daily trips to and from Nicosia.
Hopefully, it will last us as much as the Galant did.