I've been thinking about making this picture for more than a year now. Recently, I got very inspired by a number of really cool versions at Flickr (see this set for example). So, today I finally did it – click on the image for larger versions, tags, and comments.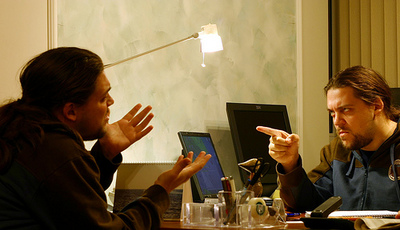 It took me altogether about 20 minutes, including two unsuccessful attempts.
Here are the notes, so that I can do it even faster next time:
Find the location and think of setup, then make a test shot for settings reference.
Set camera on tripod. Both shots (or more if needed) have to be as identical as possible.
Set camera to manual mode. Set aperture, shutter speed, ISO, and custom white balance. Make another test shot, if unsure.
Set lens to manual focus. Then focus manually.
Find a reference point for posing. This will be the place to cut two images at. For the above image I used the lamp light as a reference.
Set camera on timer. This will give you some time to run back to the scene and pose.
Run back and pose. Try to stay off the reference point, so that you won't have to do a lot of editing afterwords.
Make as many shots with as many poses as you need for the final image.
That's the hardest part. Now, for a little bit of editing.
Get images off the camera and onto the computer.
Load them up in Gimp or your editor of choice.
Use one image as a base, this way EXIF data will be preserved and you'll know how you did it.
Cut relevant pieces from all photographs and load them into layers of the base image. Make sure to use the grid ruler. Increase the view point of the image as much as possible, so that the ruler is as precise as a pixel. Otherwise, you'll have to do a lot of editing afterwords.
Adjust the positions of layers on the base image. Again, use the pixel precise ruler.
Merge layers and flatten the image.
Now is the time to do all that other usual editing, such as cropping, levels, contrast, and saturation.
That's it!