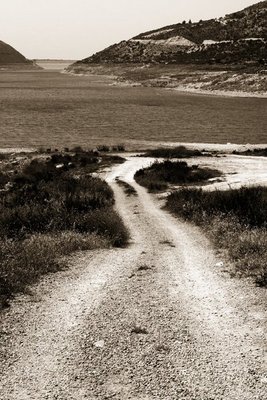 Today Olga, Maxim and I together with Vladimir and his mother went for some food in Phini tavern. On our way up we had to make a few stops, because Maxim was getting bored and tired of the road. One of the stops was on Kouris lake.
Kouris is one of the most pictureous places that I've been at in Cyprus. It's doesn't look very pictures or anything. It's just that most of the pictures that I shoot over there come out to be quite interesting.
And, of course, there is the church attraction. There is a Saint Nicholas church on the bank of the lake. It's a small one, and not too fancy. And it wasn't even worth a mention until two years ago.
Two years ago there were plenty of rains and the level of water in the lake raised considerably. The chuch was flooded. Literary. It was completely under water. Only the cross at the top was visible.
Needless to say that the chuch was destroyed. It wasn't disassembled though. And not it still stays there as a ghost reminder. A smaller one has been built nearyby, at a higher ground. Like a memorial.
I am not religious at all. And I don't have any feelings for the Church and its buildings. But the one at Kouris always makes me sad. It just looks so dramatic…
Other pictures of the lake, even without the church, come out just fine too.
Album location: /photos/2006/2006-04-29_POTD/