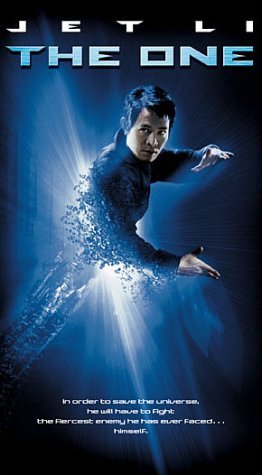 Jet Li is almost a guarantee of a good action movie with lots of martial arts. Not yet, but he is surely getting there. I rented "The One", because I was too lazy to look for something else and I agreed to watch a Jet Li movie.
Directed by: James Wong
Genres: Action, Sci-Fi, Thriller
Cast: Jet Li, Carla Gugino, Delroy Lindo, Jason Statham, James Morrison, Dylan Bruno, Archie Kao, Richard Steinmetz, Steve Rankin, Tucker Smallwood, Harriet Sansom Harris, David Keats, Dean Norris, Ron Zimmerman, Darin Morgan
IMDB raintg: 5.4
My rating: 6.0
The film was not bad at all. It is based upon an interesting sci-fi story with multiple parallel universes and travels between them that nicely integrates martial arts with some phylosophical and ethical issues.
I was surprised by the amount of special effects and computer graphics. They were done pretty decently and were enjoyable. Sometimes they looked very unrealistic, but they had this nice funny and styly touch upon them, that I almost wasn't noticing.
While I also usually like Delroy Lindo and Jason Statham they both looked unattached in this film. It's just that they didn't have much to do and their characters were somewhat undeveloped.
Never-the-less the film is good and easy entertainment and has enough martial arts in it to proof worthy.