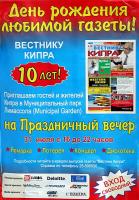 "Vestnik Kipra" is one of the few Russian newspapers in Cyprus, produced by Cyprus Advertiser Ltd. This year, "Vestnik Kipra" celebrates its 10th birthday. There will be a party at Limassol Municipal Garden on coming Sunday, 31 July 2005.
The program of the even includes musical concert, lucky lottery, disco, and the bazaar. Entrance is free. Event will start at 16:00 and will continue until 22:00.
If you have nothing better to do, pass by and check it out.