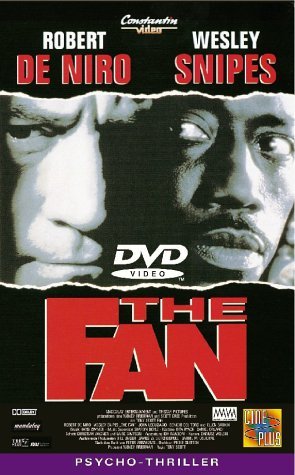 With all the heat that we are having here in Cyprus, anything that sounds like a chill out sounds like a really good thing. I know that "The Fan" could have several meanings but I picked it up anyway.
Directed by: Tony Scott
Genres: Thriller
Cast: Robert De Niro, Wesley Snipes, Ellen Barkin, John Leguizamo, Benicio Del Toro, Patti D'Arbanville, Chris Mulkey, Andrew J. Ferchland, Brandon Hammond, Charles Hallahan, Dan Butler, Kurt Fuller, Michael Jace, Frank Medrano, Don S. Davis
IMDB raintg: 5.4
My rating: 6.0 [rate 6.0]
This is a good movie, but it is one of many. It's done in good quality, but nothing is special about it. It has a cliche beginning and a very predictable ending. Dialogues, character development, acting – everything is good on the average.
The only thing that stands out is the soundtrack. Outstanding mix of Nine Inch Nails and Rolling Stones with some hispanic bits is even available on CD from Amazon.
Recommendation: whatch this film if your movie queue is filled with average or below average crap. You'll have a good time.