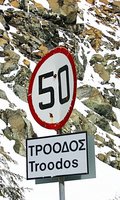 Today I went on a trip to Troodos mountains. Olga wasn't feeling good enough for travelling, so I went with Lev and Hazard. There was a small get-together planned by few people from the Russian Cyprus Forum. People came from Limassol and Nicosia and maybe from somewhere else, I don't know. Usually I know pretty much everyone on the "parties" like this. Not today though. There were plenty of new faces.
I, of course, planned and used the trip as an amazing photo opportunity. It is the first time this year that I went to see snow in the mountains and it has all the chances of being the last time too. I have made a whole lot of pictures. Overall I did exceptionally good. Usually I screw things up and than try to make excuses about bad light and everything. This time I have managed to avoid that path. I shot just a little over 100 frames and more than 80 turned out OK.
Hazard was filming everything and he even promised to make a movie in about 10 days or so. I wonder how this will come out. He was filming plenty of events in the last couple of years, but noone has ever saw anything except for a couple of raw clips. He was always planning to make them into a movie, but never found time to actually do it. Today he promised to do so, which is a completely different story.
While I am on the camera and digital equipment subject I want to express my astonishment regarding the way many people treat the sensitive appliences. When we came to Troodos and were walking up the road to meet the rest of the people, we got ourselves in the middle of snowball fight. Everyone was throwing snowballs at everyone. Camera or not. I tried a couple of times to warn people that digital cameras don't work with snow/water inside, but noone would listten. Strange. And I almost had written that off to alcohol and similar reasons. Olga explained it to me though. She said that most people she knows do not realize that water can damage electronics. Even she didn't know that until I told her some time ago. Well, she knew that water can damage electronics, but she didn't know that photocameras and camcorders are not waterproof. Go figure…
Anyway, I had a lot of fun in Troodos. After the snowball fights everyone went to the taverna, where we split because it was way too crowded over there. While everyone stayed at Gabriella's place, Lev, Hazard and I went to Foini, which was like 15 minutes of extra driving. Steak, wine, and beer and the trip back home… Great time!