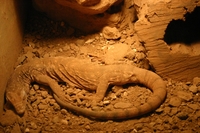 Olga and I went to the Reptile House today. You can find it near Limassol's Old Port, next door to the left from the Ladas Fish Tavern.
It has been a while since we wanted to get there, but today we found out that we were not missing a lot. It is a small, dark, hot room with about twenty glass cases. One of these cases is bigger then the others and is filled with midium-sized turtles. There is another bigger one turtle too. A couple of lizzards in two other cases. Everything else is devoted to snakes. All the reptiles make you feel pity. They look dead. Really. No action at all. A couple of snakes lay in the plates with drinking water. Lizards are not any better. There was a lot of excitement from our side when in about 10 minutes one of the snakes started to move a bit to get in the water. That was about it.
There is not a lot of information about these species. There are few printed out paper sheets with descriptions in Greek and English, but they are boring to read due to the small font and darkness. Visually though, there was nothing surprising. I had a feeling that if I would go deeper into the fields somewhere in the mountains that I can find any of these snakes or lizzards. Probably this is wrong to feel. :)
You are welcome to enjoy the Reptile House and make your own opinion for a mere 1.50 CYP. Few pictures from the place are here.