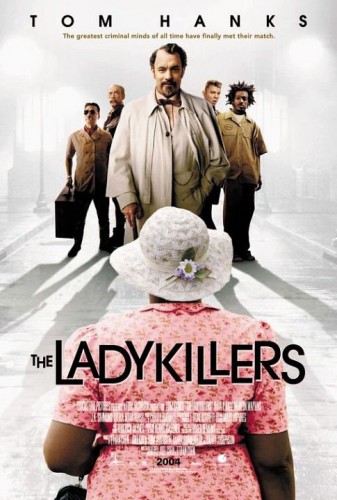 "The Ladykillers" is one of the recent movies that I missed. I didn't want to see it as the rating was a bit low and the title was vague, but when I learned that Tom Hanks is in it, I decided to watch it.
Directed by: Ethan Coen, Joel Coen
Genres: Animation, Comedy, Crime, Horror
Cast: Tom Hanks, Irma P. Hall, Marlon Wayans, J.K. Simmons, Tzi Ma, Ryan Hurst, Diane Delano, George Wallace, John McConnell, Jason Weaver, Stephen Root, Lyne Odums, Walter K. Jordan, George Anthony Bell, Greg Grunberg
IMDB raintg: 6.4
My rating: 6.5 [rate 6.5]
This film is a nice criminal comedy. It is a very styly one as well. The cinematography is excellent as is the acting. The story is interesting too. I wish there was more humor in it though. As it is, the movie can be seen as sad at some places. But a very good overall.
The DVD contained an interesting mini-film about the making of musical instruments. There were few intervies with the guy who was making all sorts of musical instruments for almost 30 years, and who made guitars for such famous people as George Harrison and Kurt Cobain. I found this minifilm surprisingly informative and educational.
There were also a few gospel songs which didn't make it into the movie, but which were very fine aswell.