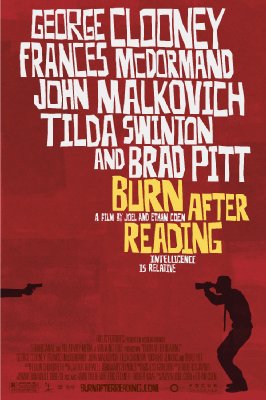 I went to see "Burn After Reading" a couple of weeks ago.  I had a feeling that it should be rather good, because it was directed by Cohen brothers, who directed, produced, and wrote screenplays for quite a few good movies ("No Country for Old Men", "O Brother, Where Art Though?", "The Big Lebowski", "Fargo", "The Hudsucker Proxy", and more).  Also, the cast for this film was interesting – George Clooney, John Malkovich, Brad Pitt, and a few other names you know.  And, of course, there was a cool trailer.
The film was excellent, but it wasn't quite what I expected.  I thought (based on the trailer) it would some sort of comedy action, with a bit of crime.  And it sort of was.  But.  I don't even know how describe it.  It was funny but very sad film.  Or a very sad film, which was funny.  I guess that just doesn't make any sense, but that what it was.
Overall, I really enjoyed it.  Especially with all the good acting, interesting story telling, camera work, and even more good acting.  An 8 out of 10 and strongly recommended.