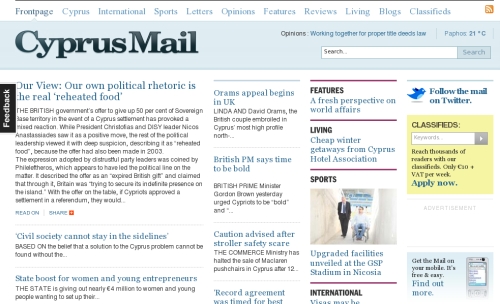 I've noticed that @cyprusmail Twitter account became much more active recently.  Today I followed one of the posted links to read the news article, and was surprised by the new newspaper's web site.  It is still in beta, but it's already pretty good!
Finally, there is someone who knows what he (she?) is doing.  Based on Drupal CMS, utilizing Amazon S3 service, integrating with Twitter, Flickr, YouTube and Facebook, featuring proper RSS feed, slick feedback form, and even placeholders for stuff blogs – that's quite an achievement!
I definitely welcome the new face (and body) of the Cyprus Mail and wish them great success and to keep up the good job.  Now their content is finally matched by its presentation and surrounding functionality.