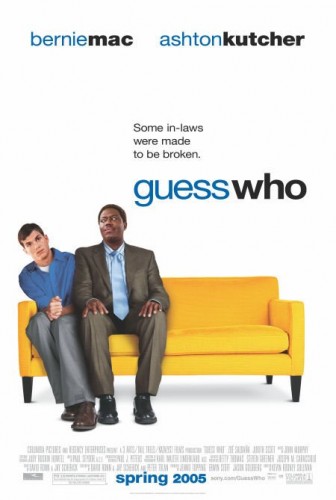 Watched yet another romantic comedy – "Guess Who" – which is fed from the family fun.
Directed by: Kevin Rodney Sullivan
Genres: Comedy, Romance
Cast: Bernie Mac, Ashton Kutcher, Zoe Saldana, Judith Scott, Hal Williams, Kellee Stewart, Robert Curtis-Brown, RonReaco Lee, Paula Newsome, Phil Reeves, Sherri Shepherd, Nicole Sullivan, Jessica Cauffiel, JoNell Kennedy, Niecy Nash
IMDB raintg: 5.4
My rating: 6.0 [rate 6.0]
In addition to all the regular humor around a daughter bringing in a boyfriend to the house for a weekend stay, this film had a strong anti-racial thing going on. In some places it was going much stronger than many "serious" films allow themselves to go, but as far as I am concerned – it never crossed the line. It was just right.
Both Bernie Mac and Ashton Kutcher did a good job of acting. They were pretty natural, awkward and funny. The amount of jokes was good too. I also liked the soundtrack. It fitted the movie well and filmmakers even managed to put some humor into that too.
Overall: a pretty nice comedy around.